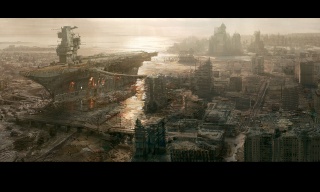 The sea had dried up, and the city had truly turned into a city of ash. If anyone, or anything was even alive, it was hiding somewhere deep inside the rotted remains of structures and other fallen buildings. The best thing that you could do, you know after a nuke or two rapes the earth - was to survive. If you weren't able to survive, well then you died. Simple as that. No really, it was as simple... as that.
Of the survivors, was a pale-faced boy, with silvery hair, and deep blue eyes. He was alive, but he didn't even know it yet. The bombs had fallen, and so had the house that he had been inside. The boy had laid there for days, starved, and dehydrated - without even being aware of what had happened. He wasn't conscious, and had a rather large gaping wound on his forehead. A black uniform encased his badly bruised and broken frame, that laid where a house one had stood. The boy's name was Christopher. And other than his trusty Sniper Rifle, hidden deep beneath the rubble - he was totally alone.
Other survivors prowled over the abused lands, seeking each other out for aid. But for now, this boy, stayed there, completely knocked out, and just bleeding. What would become of him, no one knew. Not even he would know. Not yet anyways. Not until someone came in and stumbled up upon him....
The Angel of Plague





Posts

: 121


Join date

: 2013-03-30


Age

: 34


Location

: Beside the Tyrant King <3



Gundar was in the process of scavenging in the aftermath of the nuclear bombs dropping, when he came across a man trapped underneath a pile of rubble, bleeding from the forehead. Not caring about his own injuries, a pike that was lodged in his forearm, he quickly ran over to the mans side and checked his pulse. "Good still alive i better get you out of there or you will die in there." He said to the man who was unconscious. Gundar began to take the rubble off the top of the pile to free the man from certain death.

Gundar had been working the most of the day freeing the man from the pile. "Almost done here then we can take you to somewhere safe." He said as he wiped the sweat off his forehead. The rubble was almost clear off the man who was trapped, the sun was starting to lower behind the horizon, he wanted to hurry up before the moon rose. After a few minutes he freed the man from to pile of debris. "Okay lets take you out of here, because I don't want to find out what kind of crazy people come out at night.

Gundar lifted the badly damaged man upon his back and hauled him to a safer place. A place that wasn't badly damaged by the bombs. He lied the man down on the ground and placed what seemed to be a blanket over him. Gundar found some things to start a small fire to keep them warm. He sat down after the fire was started and began to tend to his own wounds. He took the metal pike out of his forearm and threw it to a far wall, and he began to wrap his wounds, waiting for the man to wake.
The New Kid





Posts

: 4


Join date

: 2013-04-13



Chris would open his eyes a time later, laid out somewhere, completely confused. At first his eyes almost refused to open, as if they were stuck together from the dust and muck that had collected from the fallen building.

Where am... I? He asked himself, rather confusedly. Even in his own mind, his thoughts were weak, and injured - much like his body.

The boy sat up and groaned, realizing that he was wrapped up and that most of his injuries were in the process of healing. Under the descending night, he could see flames, a fire - or something close by. He brought his cut-up hands to his deep blue eyes and rubbed them, then sneezed, from all the debris gathered all over his clothing. Wasn't a moment later, he noticed that there was another male beside the fire, who seemed to be the reason for him being there.

"W-where... where am I...?" He gasped, backing away. Immediately his left hand wandered through the ground and remains of grass, seeking out his Sniper Rifle. However, it didn't appear to be anywhere near him. Panic and terror set in, and before he could stop himself, he was shaking.
The Angel of Plague





Posts

: 121


Join date

: 2013-03-30


Age

: 34


Location

: Beside the Tyrant King <3



"Well first of all, congratulations on being a survivor of a nuclear holocaust. Secondly, you are in an abandoned building that is underneath a building that fell over onto another building."

Gundar said as he set down his curved short sword, and whetstone. Gundar got up and stretched and looked at the scared fellow who looks like he lost his dog.

"No need to shake my friend, I am good company. I am the one that dug you out of a pile of rubble and brought you to safety."

Gundar said as he dug in one of his pouches and pulled out a dented can of beans. He reached in his other pouch and pulled out a throwing blade and stabbed the can to open it.

"Here you need to eat up because you are looking like a complete wreck. It's the best I can do for now. Gundar explained as he set the can of beans next to the man.

After walking back to where he was sitting he asked, "What is your name good sir? And why are you shaking?" Gundar turned around and folded his arms and looked at the man shaking in what appears to be fear.

Gundar put the throwing blade away and sat down and went back to sharpening his short sword, waiting patiently for the man to answer him.
The New Kid





Posts

: 4


Join date

: 2013-04-13



Chris tried to relax but without his Rifle it was almost impossible. Until the fabled steel was against his fingers, he felt truly alone and at an extreme disadvantage.

"I...uh... my name is... Chris..." He said slowly. The boy took the food and set it down. He wasn't hungry, and eating was out since he was shaking so much. The boy rarely spoke unless he absolutely had to, and without his phone, or computer, it was either that or risk someone hurting him.

Fingering the long silver hair, the kid remembered some of the things that had taken place before the nukes fell. He had a bit of a family, and several close friends, and instantly he began to worry. They had all been within the city that was now reduced to rubble. Did any of them make it out? He had no idea. Shaking even worse, Chris dragged himself to his feet, and began to walk off. A few paces later, his legs gave out and he fell to his knees, and threw up all over the place.

"Fuck..." He coughed. He opened his eyes to see blood and dizzily just stared for a moment. "I need to get outta here...."
The Angel of Plague





Posts

: 121


Join date

: 2013-03-30


Age

: 34


Location

: Beside the Tyrant King <3



Similar topics
---
Permissions in this forum:
You
cannot
reply to topics in this forum